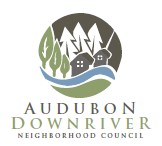 Welcome
The Audubon·Downriver Neighborhood Council (ADNC) meets regularly on the third Thursday of each month (except for December, July and August). Neighborhood council projects include parks, traffic calming, public safety, and community events.  Residents, property owners and business owners who attend 2 or more meetings in 12 months become voting members.  Please join us! Meetings begin at 7 PM in the Library at Finch Elementary School, 3717 N. Milton Street.  Records of past meetings are posted
here
. Check the calendar for meeting dates and other events.
Please note: To comply with Stay at Home Orders, all neighborhood meetings have been cancelled until further notice.
---
Neighborhood Newsletter
Until we are able to hold our regular monthly meetings, the ADNC will be publishing a monthly newsletter to keep everyone informed of council and neighborhood issues and activities. The newsletter will be sent to everyone on our e-mail list and posted on our Facebook page and to this website under the documents tab. If you would like to be added to our e-mail list, please send your contact information to us at audubondownriver@gmail.com.
---
Shadle Area Neighborhood Plan
Northwest and Audubon-Downriver neighborhoods worked with city planning staff and a private consultant to create a 20 year vision for the area around the Shadle shopping center. The Shadle Area Neighborhood Plan was adopted by City Council in November, 2019. Follow
this link
to review the final plan.
---
Concerts Under the Pines
The Audubon-Downriver and Northwest Neighborhood Councils collaborated this summer to host four concerts in Audubon and Shadle parks. The family friendly concerts are an annual event and provide an opportunity for residents to gather in our neighborhood parks for an evening of fun and entertainment.
---
Horses in the Park
Audubon Downriver Neighborhood Council recently donated a flag to the COPS Mounted Patrol drill team. Jeff Stevens, ADNC vice chair, presented the flag to Traci Ponto, Neighborhood Resource Officer from COPS West. Look for the drill team at parades, rodeos, concerts and other events.
================================================================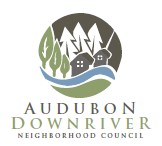 Northwest Boulevard Pedestrian Crossing
The Audubon-Downriver Neighborhood Council received traffic calming funds to fund the construction of a pedestrian crossing at the intersection of Northwest Boulevard and Alice Street. The marked crossing includes a safety island in the center of the Boulevard to enhance the safety of the crossing.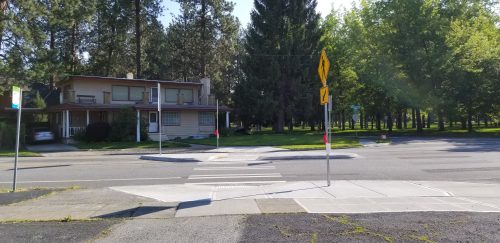 ================================================================
Information Kiosk in Audubon Park
The Audubon-Downriver Neighborhood Council received funds from the Spokane Parks Foundation to design and construct an information kiosk near the parking lot in Audubon Park. Signage on the kiosk describes the history of the park, a guided walking tour of the tree species in the park, a lost and found bin, a place for residents to post community messages and a map of the surrounding neighborhood.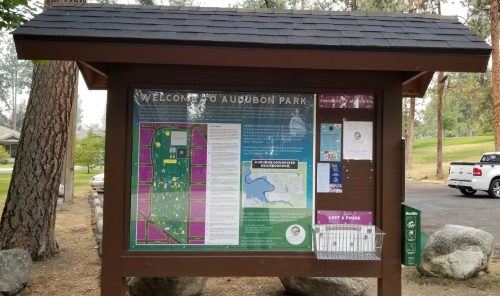 ================================================================